This is another time and money-saving accessory. Since drums are easy to come by and relatively inexpensive, it makes for a convenient way to store liquid. A clean drum usually sells for around 65 dollars (not sold by Hardy Diesel). Since the reliability of a diesel generator depends on clean fuel, it is important to have a clean fuel source. If the drum ever gets condensation or algae build-up, exchange it for a new one at your local fuel company. Tech tip: If fuel sits too long, use it for something else and get new fuel for your generator.
DOES NOT INCLUDE filter kit or drum. Shown for display purposes only!
Drum Tank Kit includes everything shown below (except filter and drum). Includes approximately 10 feet of premium quality American made 5/16 feed line and approximately 10 feet of 1/4 inch return line. Note all Diesel generators require a return line. This kit can also be used on a smaller drum or tank by simply cutting the pickup tube shorter. It can be used on a larger tank by adding a longer pickup tube. It is standard 3/8 inch NPT. We use high-quality components in this kit.
Always refer to local and state regulations when dealing with fuel. Generator fuel supplies can only be done by a licensed contractor. Using a 55-gallon drum for a fuel tank may not be legal in places other than Baja. It is your responsibility (or your contractor) to determine local regulations prior to purchase. Many states require secondary fuel containment such as a spill basin or double-wall UL listed fuel tank. We have double-wall UL fuel tanks available.
Download PDF: Instructions for Drum Tank Kit
Parts Included in Drum Kit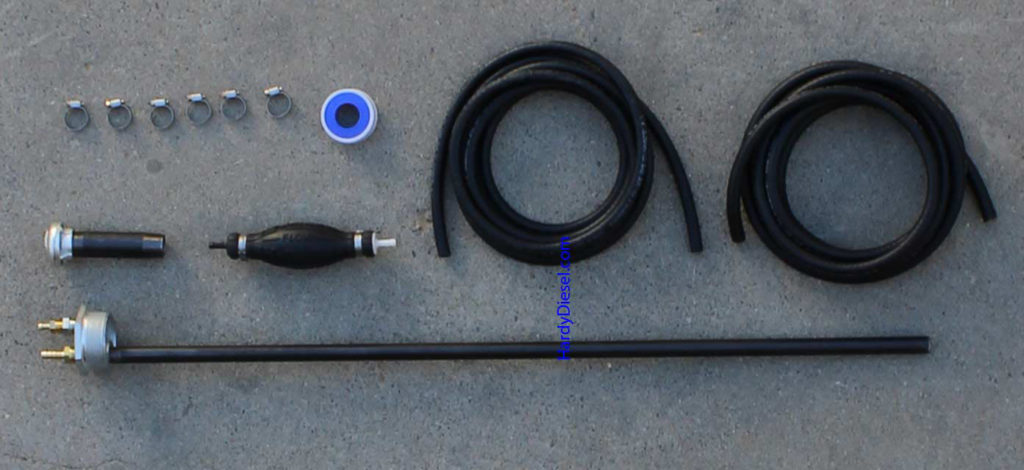 Drum Kit Engine Hookup Example